Water as Leverage: a resilient and sustainable future for all
January 22, 2021
Water as Leverage: a resilient and sustainable future for all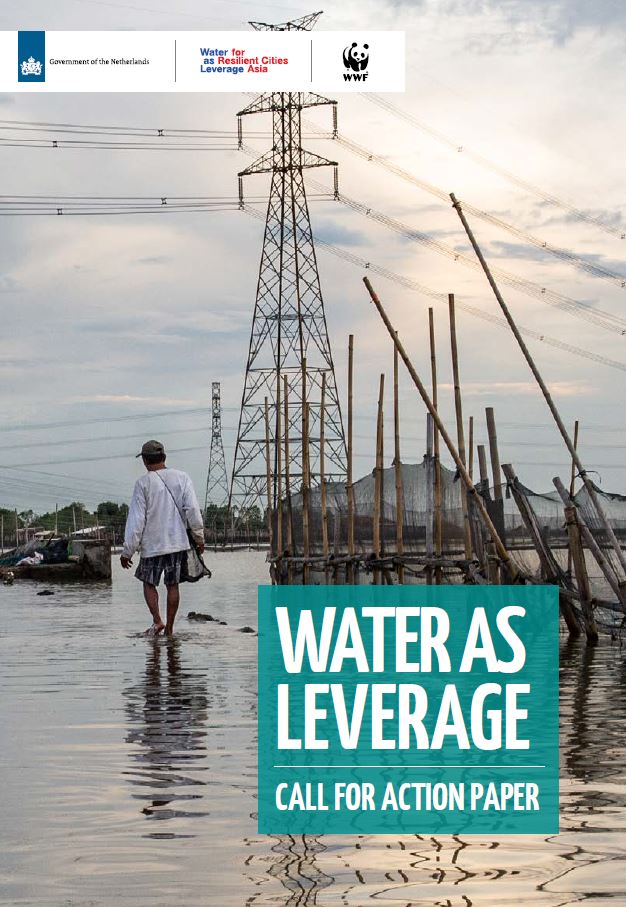 With cities across the world facing increasing water challenges, the Water as Leverage programme has proven to be an inclusive and integrated approach to securing a resilient and sustainable future for all. The programme meets the need for innovative urban projects that will strengthen climate adaptation through partnership with communities, civil society, governments and the private sector. Therefore, the approach deserves to be scaled up and replicated in other parts of the world, especially as climate change will exacerbate water risks.
The unique approach, the very promising results and the way ahead have been brought together in the inspiring WATER AS LEVERAGE — CALL FOR ACTION PAPER, which was launched today by the government of the Netherlands, OECD and WWF. It distils the essence of Water as Leverage, as illustrated through the pilot projects in Chennai (India), Khulna (Bangladesh) and Semarang (Indonesia) – and invites potential partner to join, co-invest in, replicate and scale-up Water as Leverage worldwide.
Water as Leverage focuses on catalyzing urban climate actions through a design-led holistic and inclusive approach, using water's connecting capacity as driver for sustainable development. The paper emphasizes the need for innovative, resilient urban projects through partnership across society, and the engagement of the financial sector right from the start.
The innovative, integrated, sustainable and inclusive approach and the promising results have led to new initiatives in India, Vietnam and Latin-America. In Vietnam, Water as Leverage is linked to an existing World Bank program, worth US$177 million, for a number of cities along the coast of Vietnam. The World Bank is convinced that Water as Leverage adds value to their project development approach.
The next phase of Water as Leverage will involve linkages with ambitious projects such as the Resilient Asian Deltas initiative, which aims to secure the future of delta communities and cities by 'building with nature' to help stop the continent's great deltas from sinking and shrinking, and innovative financing, like the Dutch Fund for Climate and Development.
The call for action paper also was the central theme during a dedicated roundtable during the Climate Adaptation Summit in Rotterdam on 25 January. Henk Ovink, Netherlands Special Envoy for International Water Affairs, discussed the value and the potential of Water as Leverage with Stuart Orr, Practice Lead, Fresh Water of WWF, Kathleen Dominique, Lead Financing Water of OECD, Francis Ghesquiere, Practice Manager for Urban, Resilience and Land in East-Asia & Pacific for the World Bank, and Shabana Abbas, President of the Water Youth Network.
For more information, please send an email to: wal@rvo.nl